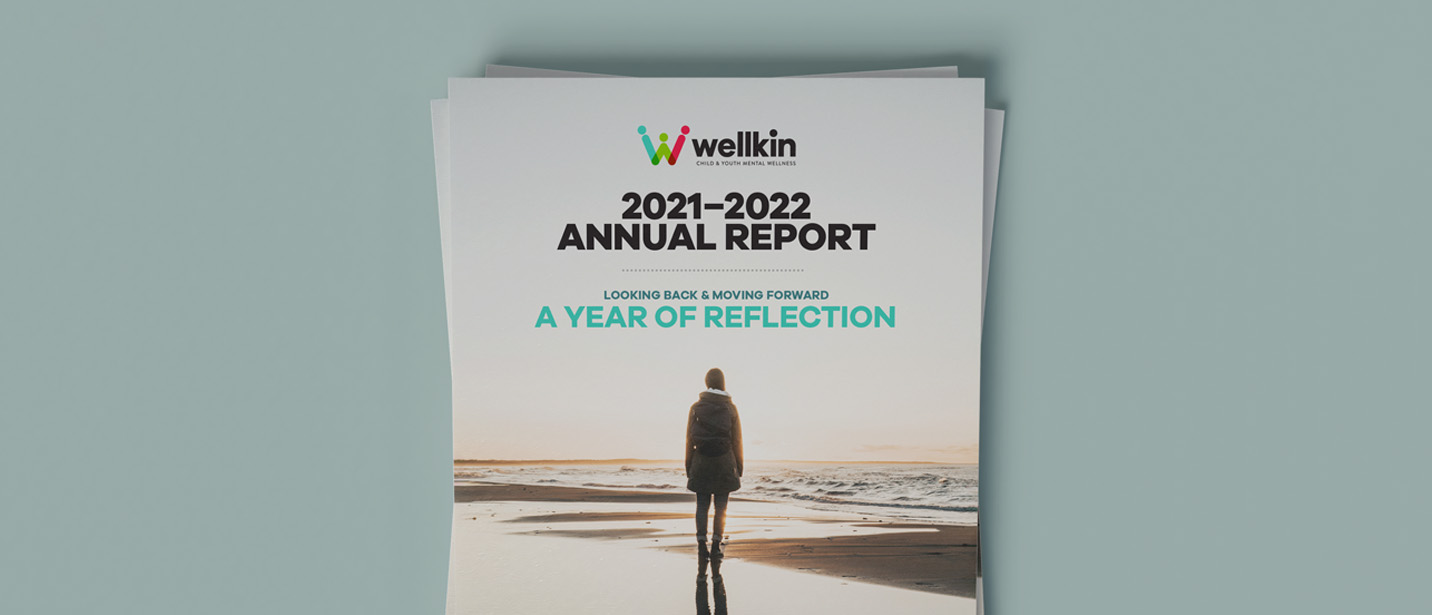 Download and view our 2021-2022 Annual Report
---
A message from the Executive Director…
Reflection is the theme for this year's AGM. I feel that we have a lot to reflect on…
Mid-way into my second year as Executive Director at Wellkin, I continue to be amazed and impressed by the commitment, flexibility, and adaptability of the staff. I have been equally impressed by the adaptability of our clients and their families.
Covid-19 definitely made things challenging, and its effects have gone on far longer than most of us expected. Through it all, we have been steadfast in recognizing that the children and youth of Oxford & Elgin Counties need significant and accessible mental health supports. I am incredibly proud of the team at Wellkin in continuing to provide those supports, both in-person and through virtual programs. Covid-19 has provided us the opportunity to showcase Wellkin at its very best.
While navigating a global pandemic, a massive flood at one of our main sites, the relocation of another main site, significant challenges in recruitment, and successful negotiation of a collective agreement, we have been able to ensure that client service remained a top priority. While many other businesses closed their doors, Wellkin never did. Our staff was able to ensure that clients were seen, wherever they needed to be seen (virtually, in-person, in-community, in-school, in-home, and more). Our Mission, Vision, and Values and the Strategic Plan, are integral parts of the agency and are embedded in everything we do. The full Strategic Plan is available on our website.
This annual report showcases some (but certainly not all) of Wellkin's key accomplishments, and inspiring stories and insights from the year. The level of expertise and caring spirit of our staff continues to have a very positive impact on the children, youth, and families in our Counties. This is never easy, especially when working in a sector with very limited funding, and ever-changing priorities from the government.
While serving as a Lead Agency for Child & Youth Mental Health in Oxford & Elgin Counties, we continue to focus on continuous quality improvement, program redesign, new programs, and more. We continue to seek additional funding opportunities at the Ministries and through grant applications.
Being entrusted with public funding is an enormous responsibility, and one that we take very seriously. I am incredibly grateful to our Board of Directors for their guidance, leadership, advocacy, and support. Their governance and support to the leadership team is invaluable.
I want to thank all staff at Wellkin for their flexibility, passion, and support during the past year. It has been a challenging year for everyone; please know that your unwavering commitment and dedication is what makes Wellkin best-in-class in what we do. On behalf of the entire leadership team, THANK YOU! I also want to thank our many community partner agencies; without your collaboration we would not be able to thrive and grow. Last but not least, I want to thank the people we serve… the children, youth and families – you are the reason we are here. Thank you for entrusting us with your care.
— Kelly Baker, Executive Director
---