LEAD AGENCY NEWS
Enhancing existing education, prevention and early intervention efforts to support children, youth and families of Oxford and Elgin County.
Sophia Briard
Systems Coordinator
Message from our Systems Coordinator, Sophia Briard
I was hired by Oxford-Elgin Child and Youth Centre (OECYC) to support its role as lead agency in implementing the Ministry of Children and Youth Services' Moving on Mental Health initiative. As part of this role, I engage the community, fostering collaboration and coordination among service partners to work toward improving pathways to care. We aim to raise awareness among families with respect to which community mental health services are available and how to access those that meet their needs.
Since November 2017, I have connected with 53 different partners (including service providers, families and youth) to determine OECYC's four key lead agency priorities for the next three years. This quarterly newsletter is intended to keep you updated on our progress these priorities. As implementation will begin in April 2019, we will take the opportunity to introduce one of our new priorities each quarter leading up to this time.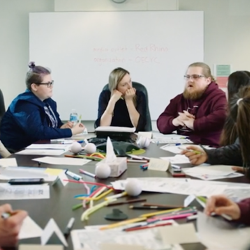 Reporting Back on Youth Engagement
In January, OECYC's youth engagement coordinators, Karla Enns and Jessica Ross, convened a Youth Engagement Advisory (YEA) Committee made up of 12 youth with the purpose of providing youth the opportunity to:
Advise OECYC in the development of a youth engagement strategy;
Act as advocates and promoters of OECYC;
Build leadership and life skills; and
Build mentorship opportunities and relationships among its members and within the community. The YEA Committee provides a time and place for youth to regularly connect with one another, building a sense of belonging and social connectedness. It provides youth with the opportunity to champion projects they feel are most important in reducing stigma and improving mental wellness/mental health services for children, youth and families in our community.
The YEA Committee has told us they want to work on two key projects: The establishment of a youth-specific mentorship program to pull in more youth from the community and, secondly, actionable recommendations to make services for youth more accessible. Jessica and Karla are supporting the YEA Committee to create a plan to tackle these projects in the coming year, starting with ideas to make OECYC's services more accessible.
As OECYC was creating the foundation for its youth engagement activities, it received notification that Ministry funding support will cease for the Youth Engagement (YE) Coordinator positions as of March 31, 2018. These roles are integral to continuing the efforts of the YEA Committee, and as such, OECYC is getting creative and continuing to explore ways to keep this work going in the long-term to continue to benefit the community.
"The YEA group is important to me because it gives me (and other youth) the chance to be heard and make a difference. I feel as though youth have often been left out of planning for youth. And who knows us better than….well, us?"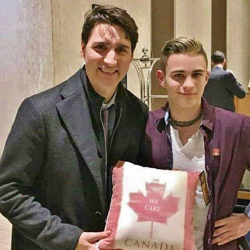 A Youth Hero in our Community
CJ is a Tillsonburg youth, recently recognized as one of Centre for Addiction and Mental Health's Difference Makers. His speech, "Helping Kids Being Bullied," has been presented at events all over Ontario and CJ has advocated for more mental health awareness and services in a meeting with Prime Minister Trudeau. He brings a wealth of experience helping other youth to OECYC's Youth Engagement Advisory Committee. CJ is in the process of securing funding to host an event for the youth of Tillsonburg that will bring speakers together to talk about mental health.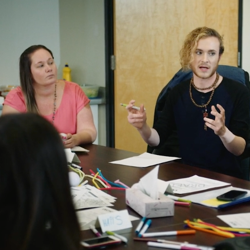 Priority #1: Enhancing existing education, prevention and early intervention efforts to support children, youth and families of Oxford and Elgin County
Community partners of Oxford and Elgin Counties recognize the need for proactive, preventative measures to target children, youth and families before they reach crisis and enhancing mental health education. Preventative action involves providing family-focused supports as well as promoting family engagement and well-being. Youth have expressed the need for spaces to go and the need to feel a sense of belonging within the community. Youth want a venue to stay connected with others and are eager to make change happen. At a provincial level, the Ministry of Children and Youth Services' prioritizes the need to increase meaningful engagement of children, youth and families with respect to the system transformation they are implementing through Moving on Mental Health.
OECYC is pleased to announce its first of four lead agency priorities: Enhancing existing education, prevention and early intervention efforts to support children, youth and families of Oxford and Elgin County. Over the next three to four years, OECYC will work with the community to implement this priority through various activities, including:
Continuing to support the YEA Committee and its youth-directed projects;
Implementing OECYC's family engagement strategy (i.e., partnering with Parents for Children's Mental Health to establish a local family support group and host an event for families in Oxford and Elgin County, building relationships with families and an awareness of OECYC among families, and exploring the potential of a Parent Advisory Committee at OECYC);
Educating the public (with a targeted focus on health, education, early years and families) regarding mental health and the mental health services available for children, youth and families in the community; and
Partnering with community to look for ways to establish a Youth Wellness Hub in Oxford and Elgin County.
Thanks to our Lead Partners
OECYC would like to thank all community partners who supported us in establishing our lead agency priorities for the next 3 to 4 years. Many of you shared your voice whether it was through the community priority-planning sessions, the family forums, our youth engagement advisory committee, or targeted meetings with OECYC's Systems Coordinator. We truly believe OECYC's role as lead agency and implementing Moving on Mental Health locally would not be possible without your input and support.